INSTALLATION & PERFORMANCE
"Humans and beasts are different species, but foxes are between humans and beasts. The dead and the living walk different roads, but foxes are between the dead and the living. Transcendents and monsters travel different paths, but foxes are between transcendents and monsters. Therefore one could say to meet a fox is strange; one could also say it is ordinary." —Ji Yun
In old Chinese stories, a fox who lingers on the roof of your house will torment you by throwing roof tiles or bricks as you cross your courtyard. Foxes inhabit abandoned houses and create illusions of elegance and wealth. They eat the vermin that attack your rice storehouse, so you leave them be.
Here is a table filled with bricks and roof tiles. Looking down at embedded video monitors, you see places where a fox might live, old houses and forests. You look up to the opening of the well of heaven only to see a fox peering down.
stills from THIS IS MY LANDSCAPE
Participants from New York, Shanghai, Guangzhou and Beijing define the word "landscape," stretching the metaphorical meanings as far as they can go. At the same time, each person, making a statement in his own language, learns to recite his statement in another language. The result – a tower of babel, the feeling of an unfamiliar language in your mouth, humorous moments of mispronunciation.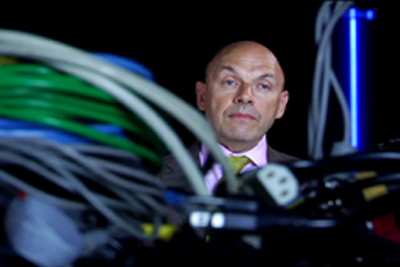 Montclair Art Museum, Montclair, New Jersey, April 7 – 29, 2010 Libreria Borges Institute for Contemporary Art, Guangzhou, May 2 – June 3, 2008   Fei Contemporary Art Center, Shanghai, April 3 – May 6, 2008   China International Gallery Exposition, Beijing, April 24 – 28, 2008
The title of the piece, Testing the Waters, is a translation of the Chinese phrase: 投 石 问 路 (tou shi wen lu). Literally, it means "throw rock ask road." A friend told Zweig that it is most commonly used to describe a new project. When you aren't sure you understand what will happen, you "tou shi wen lu," you try it out first. Using video projections and small monitors to fill the space with experiments, Zweig throws a rock or two onto the road of travel, as she explores China through Western eyes.
A culmination of six years exploring fantasies and facts of China as seen through the Western eye, Zweig imitates a woman who has casually dipped her hand in a bag of rice at the market, follows the example of a man who writes calligraphy with water, and practices speaking Chinese. In another part of the installation, Zweig juxtaposes images of an American man  learning Peking opera in a Chinese garden on Staten Island with a Chinese woman who recites Shakespeare on the street in Shanghai in front of a wall influenced by European architecture.
CUE Art Foundation, New York, October 26 – December 2, 2006
2 monitors, 6 projectors, 8 DVD players,
2 CD players, 6 stereo sound systems
sound design: Ron MacLeod
music in ambient tracks: Z'EV
additional camera: Leslie Thornton
HEAP is a large scale video and audio installation made specifically for the DDM Warehouse space. Here, Zweig brings images of China back to China. Using large projections and small flat-screen monitors, images pile up, images of China: some are documentary, shot in China in 2000 and 2005; some are created in the studio, images of an invented China. The projections, small screens, and ambient sound create an environment in which the viewer can contemplate fantasies and facts of China as seen by the Western eye.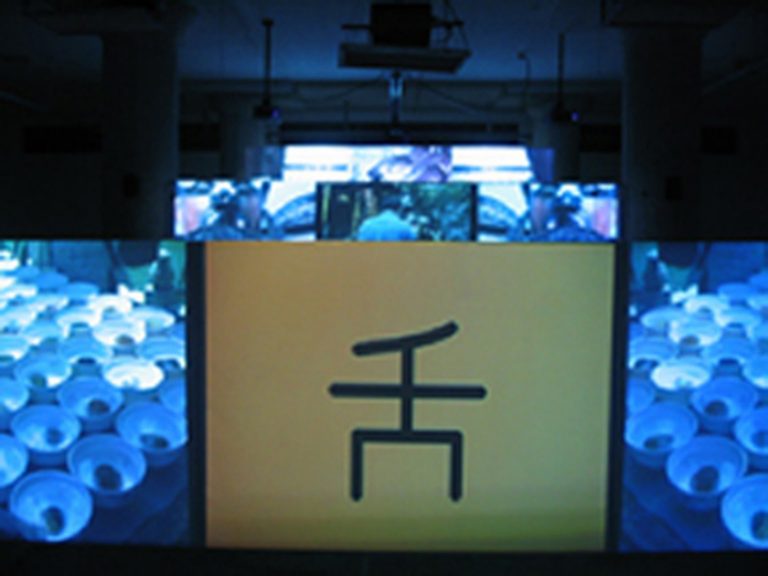 Davis Museum, Wellesley College, September 17 – December 14, 2008
DDM Warehouse, Shanghai, April 8 – 28, 2006
CRITICAL MASS (with Meridel Rubenstein)
The Dinner
A play with six characters, each on a video monitor around a dinner table. In the center, on another monitor, hands serve food, try out science experiments, pass around photographs, and conduct a séance. The characters, Edith Warner, Tilano Montoya, Albert Einstein, J. Robert Oppenheimer, Niels Bohr, and Enrico Fermi discuss the Manhattan Project, which made the first atomic bomb at Los Alamos, and the dinners they had at Edith Warner's house nearby.
Archimedes Chamber
This four-channel column of monitors show burning images with other images moving behind and through them. The audio track asks the question: if Archimedes, who made weapons to defend his city was a hero, then was J. Robert Oppenheimer a hero as well? The video column is flanked by two photographic columns by Meridel Rubenstein, showing portraits of J. Robert Oppenheimer. When entering the dark chamber behind the column of monitors, images of burning are projected from a home-made video projector onto a round screen on the floor.
Museum of Contemporary Photography, Chicago, January – March, 1997
Scottsdale Center for the Arts, September – November, 1996;  
List Center for the Visual Arts, MIT, October – December, 1995; 
New Mexico Museum of Fine Art, Santa Fe, November, 1993 – February, 1994
A tribute to Hubert's Museum and Flea Circus which was on 42nd Street from the 1920s to the 1960s. On the front of the Museum were painted banners and signs. Inside a window, a tiny bearded lady on a miniature stage tried to lure viewers into the museum. The bearded lady was a Pepper's Ghost illusion (or Head's Up Display), a video image that was reflected onto a mirror but that appeared to be projected in space. She was made of light, but she moved on a solid stage, sat on a solid chair and went out through a solid door.
42nd Street Project, New York,
sponsored by Creative Time,
July – September, 1994
CAMERA OBSCURA INSTALLATIONS
SUCH RUINS GIVE THE MIND A SENSE OF SADNESS
A control panel allows visitors to open and close two lens systems and a slit that project the outside scene onto a screen inside which is bordered by columns similar to the ones outside. At the opening, three performers, dressed to represent three stages in the history of the photographic image (sepia tinted photographs, xeroxed, and digital images), moved outside and were also seen projected on the screen inside.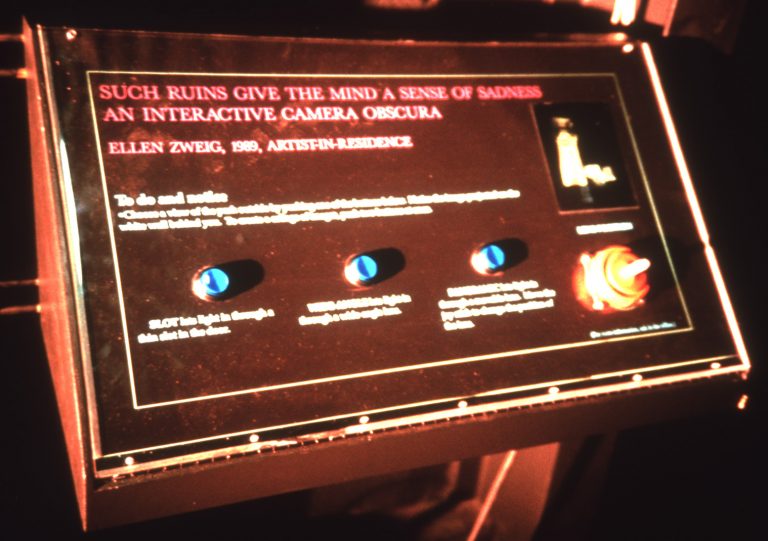 Exploratorium,
San Francisco, 1989 – 2013
A BARREL OF HER OWN DESIGN
Approaching a barrel-shaped building, the visitor saw a series of photographs and newspaper articles that told the story of Annie Edson Taylor, who, in 1903, was the first person to go over Niagara Falls in a barrel and survive. Inside the building, a series of moving and stable lens systems projected images on barrels, through barrels and on barrel-shaped screens. Down by the Niagara River, you could ride a barrel camera, moving it around to get different views. At the opening of the season at Artpark, performers in turn-of-the-century bathing costumes walked outside and viewers could also see them projected on the screens inside.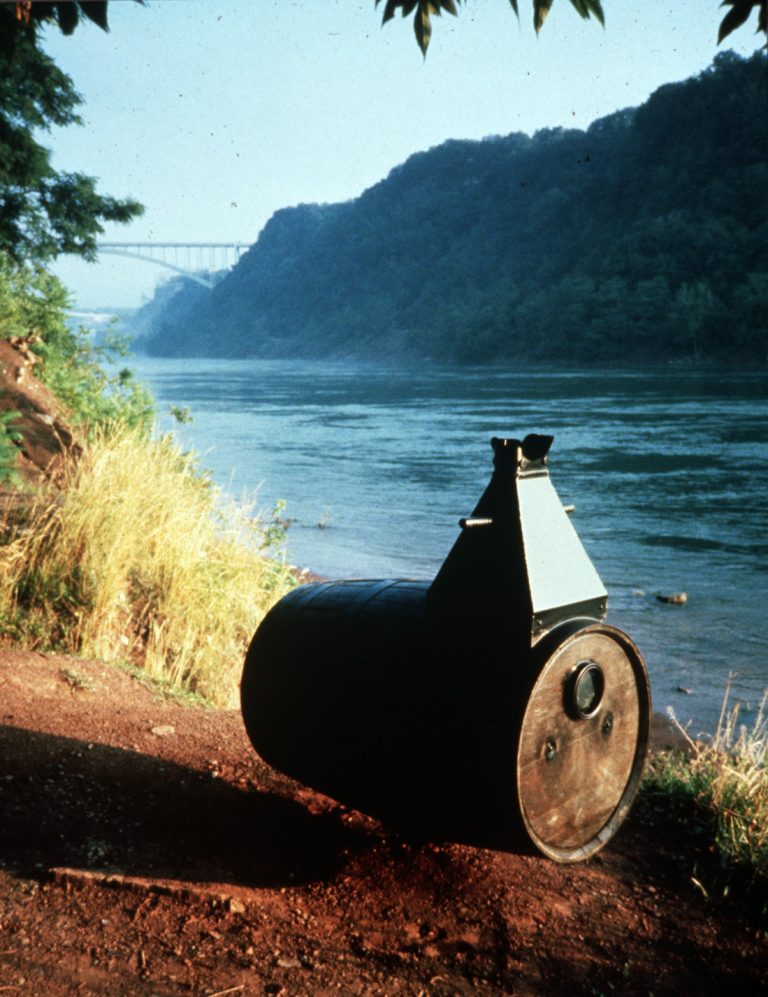 Artpark,
Lewiston, NY, 
July – September, 1988
SHE TRAVELED FOR THE LANDSCAPE –
GIANT CAMERA
Twelve performers in Victorian clothes moved outside the camera. Inside, dressed in Victorian clothes, Zweig moved the lens system to follow and frame the performers. An audiotape played a text-sound composition about Marianne North who spent a day drawing on this very spot in 1886.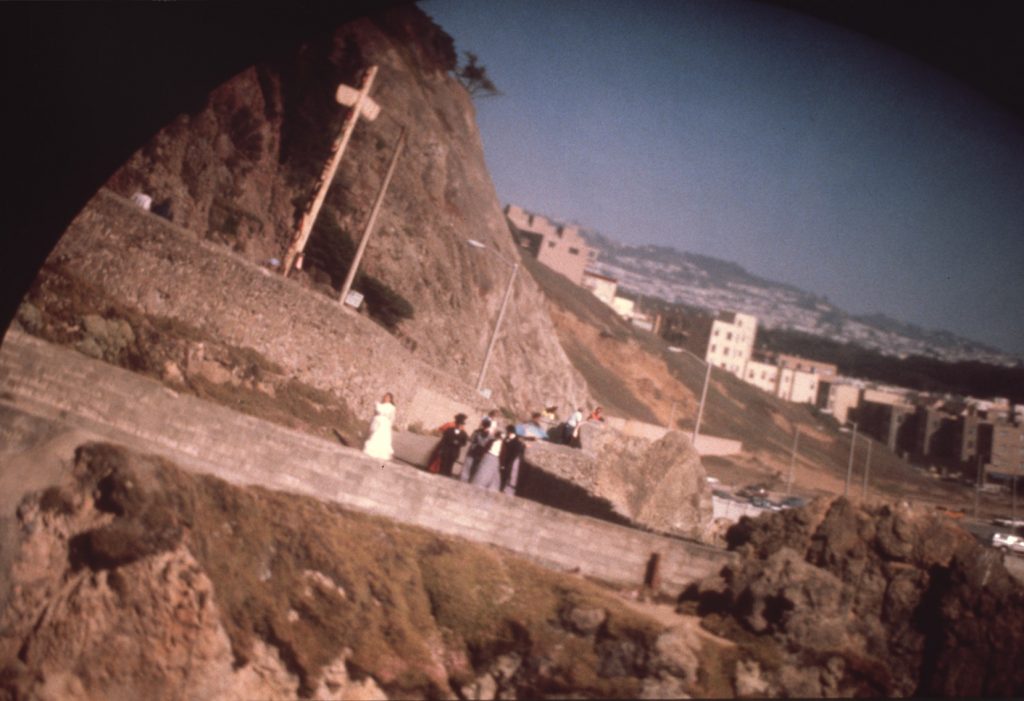 San Francisco, June, 1986
SHE TRAVELED FOR THE LANDSCAPE –
STAGECOACH
A stagecoach was converted into a camera obscura. Dressed as a Victorian lady traveler, Zweig waited at the coach stop. When the stagecoach arrived, she invited several passengers to join her in a ride around downtown Houston. Inside the coach, the outside world was projected through a lens-system onto a small screen and a text-sound composition accompanied the images.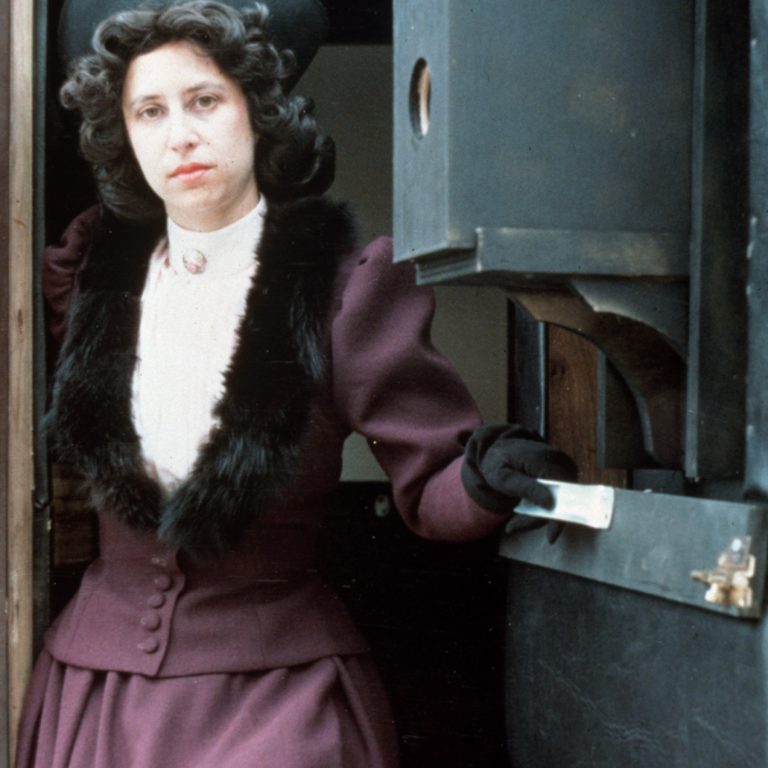 New Music America,
Houston, Texas,
April, 1986